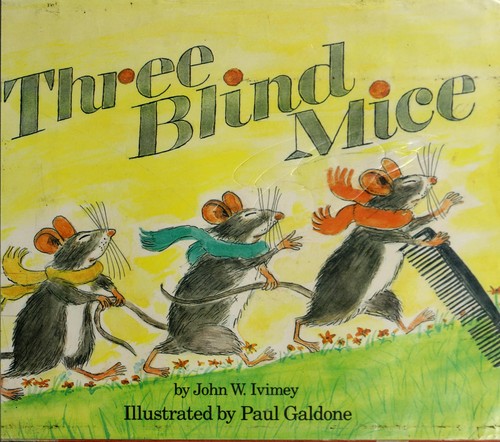 The full title of this book is The Complete Story of the Three Blind Mice. It begins with the mice wishing for fun. They ask an innkeeper for a bed but he refuses so they sleep out in the field. They wake with swollen faces from the cold. They are starving by the time they come to a farm where they beg the farmer for some bread and cheese. The farmer's wife sends the cat after them. The mice flee into a bramble hedge which blinds them. The farmer's wife cuts off their tails. Crying and sick, they accept some "Never Too Late To Mend" from Dr. Hare. They recover their sight and their tails grow back. They build a house and learn a trade and live happily together.
It is a pretty brutal story for children but at least it ends happily. I suppose it does answer that nagging question about the song, but then again, it doesn't tell why the farmer's wife cut off their tails. Just to be cruel?
John W. Ivimey published in this version in 1900. Paul Galdone decided to illustrate this version in 1987. Galdone's illustrations are always great. These are wide landscape double-page spreads. The mice are realistic, in fact a little creepy, but still portray personality.
I have to say neither my granddaughter nor I enjoyed this book. We read it once and never went back. It seemed like a rather pointless tragedy for children. So what was the message? Don't head out the world unless you have a trade and if you beg for food you never know who's going to attack you with a knife!