Bonnie Ferrante: Welcome Claudia. I'm so excited to be interviewing you. I love your illustrations.
I first encountered you when I reviewed Prince Preemie, written by Jewel Kats and illustrated by you using your fiber technique. Could you tell us what exactly you use in your illustrations?
Claudia Marie Lenart:  Thank you Bonnie! My illustrations are created from wool and other natural fibers, such as alpaca and mohair. In the books I illustrated for Jewel, I sculpted characters out of wool, through the needle felting technique, and posed them in scenes made primarily of wool or against a wool painting backdrop. Needle felting is a technique in which you use a barbed needle to repeatedly poke rolled up wool, which felts the fibers together. In Seasons of Joy, the book I wrote and Illustrated, all of the images are wool paintings, which I created through needle felting, and some pressed wool painting, a technique that comes from Eastern Europe. In pressed wool painting, wool fibers are laid out on a wool canvas; a heavy piece of glass from a frame is laid on top, and then you press against the glass to bind the fibers. The techniques are similar, except that the wool paintings can easily be framed and exhibited.
Ferrante: Where did you learn this technique? Have you used more traditional arts styles before developing this or did you go straight into fiber work?
Lenart: I am self taught. I did start with a book that described the basics of needle felting, but then taught myself after that. A friend on Etsy, from Eastern Europe, shared the basics of pressed wool painting with me and I took off from there. I have dabbled in art since childhood, drawing, watercolor painting, and colored pencil drawing. My mom taught me to knit, crochet, sew and embroider from an early age. I think the arts and crafts came together in needle felting.
Ferrante: Why did you decide to write a book on your own, Seasons of Joy: Every Day is For Outdoor Play? Will you be writing more in the future?
Lenart: I can remember always thinking "someday I'd like to write and illustrate a children's book," and that was long before I became a professional artist. I was a journalist, so I think my friends might have expected me to write a children's book. It was a surprise that my first published works were as an illustrator. Some years ago I created a wool painting for our local Waldorf school. It depicted children playing outside throughout the seasons. People really connected to the work and I sold several more re-creations to families across the world, as well as prints. I thought it needed to be a book, so I sat down and wrote verse to capture the feel of the painting and then created 12 wool paintings, some based on the original painting.
I have other children's books in various stages, however, my next will be another in the Seasons of Joy series. Where Seasons of Joy: Every Day is for Outdoor Play encourages children to get outside, explore nature and engage in imaginative play year round, Seasons of Joy: Growing Our Food in Backyards and Farms will encourage preschoolers to connect with whole and natural foods, to form a concept on where food comes from, to encourage future sustainable food growing and healthy eating.
Ferrante: I think your work would make wonderful prints for nurseries. Do you sell these on your Etsy page or do you keep all your book illustrations?
Lenart: Yes, I do sell prints of my wool paintings on Etsy and they do make lovely nursery art. I am not currently selling the original paintings, but I would take commissions to make a similar wool painting.
Ferrante: The stuffed animals on your Etsy page seem more like works of art than toys. Is that how you are marketing them? Do they stand up to rough child's play or are they meant to be set on display? The animals and children are absolutely enchanting. Have you ever had a "show" of your artwork?
Lenart: Yes, the animals are more for display than active play. They would hold up to very gentle play and storytelling. I have not had an official art show – something to look forward to someday.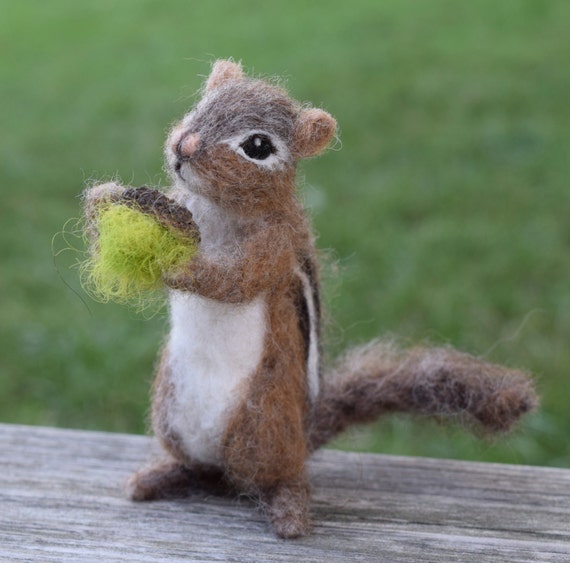 Ferrante: I was very pleased with the prose in this book and relieved you did not try to make it rhyme like many indie authors do. It was readable and poetic. What is your writing experience?
Lenart: As a young adult I wrote a lot of poetry and took a couple of college classes. Of course, I worked as a journalist for many years. Yes, I wanted the verse to feel very natural; where the verse rhymes, it happened naturally in the writing process.  I did revise quite a bit and consulted with a poetry editor.
Ferrante: Is there something new in the works that you would like to tell us about?
Lenart: My next book with a food growing theme. Seasons of Joy:  Growing Our Food in Backyards and Farms All Year Round
Ferrante: As a child, what was your favourite place?
Lenart: The beach. I grew up in Chicago near Lake Michigan, so had lots of opportunity to walk in the waves, build sandcastles and I love swimming in the cool waters.
Ferrante: If you lived underwater, what aquatic animal would you be?
Lenart: A mermaid or a dolphin.
Ferrante: What's your worst obsession?
Lenart: For worst, I would say social media, because, while it has many benefits both personal and for my business, I am guilty of spending too much time and wondering where the hours went.
Ferrante: Thank you so much for answering both my serious and random questions. I learned a lot today. I'm looking forward to your next book. It is definitely an important and timely topic. Best of luck with all your projects.
Note: Seasons of Joy: Every Day is for Outdoor Play was reviewed yesterday on this blog.
https://business.facebook.com/ClaudiaMarieFelt
https://www.instagram.com/clwords/
https://www.etsy.com/shop/ClaudiaMarieFelt