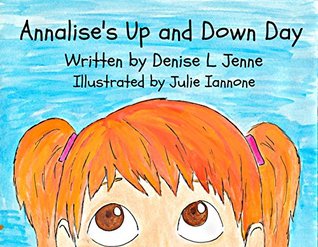 Click here to buy Annalise's Up and Down Day
My first impression of this book was that it was awkward to read to my granddaughter. It opens like calendar with the binding at the top of the page. But once we mastered the style, we were able to follow the story line. I think this was done so that the illustrator could have a landscape format.
Annalise is preschool girl who spends her day exploring up and down. The sun is up and the moon is down. The strawberries are down, the apples are up. Some concepts were less straightforward and needed explanation, such as, "Sit down. Eat up." and "Guitar up. Getting down."
The relationship between Annalise and her parents is warm and engaging. She lives a stimulated life with a good balance of indoor and outdoor play. One thing is for certain, Annalise is a busy little girl. Her exuberance is contagious. Children can relate to her simple, happy adventures.
Annalise seems to be a tiny child on her father's lap but she appears to be huge climbing up the ladder on the slide. The book's protagonist and concept seems suited for toddlers, however 24 pages of this repetition is a bit much for a child that age.
Further on the pen and watercolor illustrations, I felt they lacked depth and were sometimes so cluttered they obscured the focus. Annalise's expressions, however, were excellent. Julie Innone graduated with an Art Education Degree and may need more time for her illustrative style to mature. I also think the split page pictures were confusing and perhaps using a traditionally bound book and having the "up" on the left and the "down" on the right would have been simpler for a child to follow. The pages with such things as, "Easel up. Paints down." in a single picture, are easier for a preschooler to understand.
All in all, this would be fun to read to your child and then follow with some up-and-down activities of his or her own.