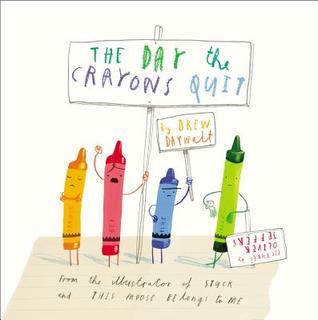 Click here to buy The Day the Crayons Quit
Duncan finds a stack of letters in place of his crayons. It begins with a letter of complaint from red who is overworked. Purple is frustrated that Duncan doesn't color within the lines. Beige is fed up with being in second-place. Gray is tired of coloring huge animals like whales and elephants. White has been ignored. Black is bored with being an outline. Green is happy with his lot in life but wants the argument between yellow and orange to be settled. Yellow insists he is the color of the sun which orange contradicts. Blue has enjoyed being the favorite color, but he needs a rest. Pink wants to be used by more than Duncan's little sister. Peach is embarrassed by his nakedness.
So Duncan creates a picture with everyone's desires in mind and receives an A+ for creativity from his teacher.
On the left side of each two-page spread is a printed letter from the crayon. On the right side is an example of Duncan's coloring using the crayon. All the pictures are created using crayons.
The story and the illustrations are simple but engaging. What carries the story is the individual characterization of each color. Everyone has their own voice, cross, whining, resentful, angry and more. Kids will find the naked humor funny.