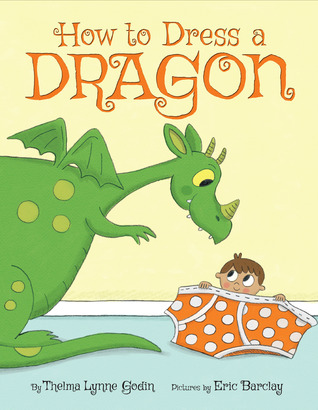 This 8 x 10 picture book has a cartoonish dragon on the front cover looking at little boy who is holding a giant pair of polka dot underwear. Inside the front cover are various patterns and colors of underwear. That gives you a pretty good idea of what this book is offering.
A little boy catches a dragon with a much too small net, tickles his tummy, and tries to put on his underwear. The dragon puts the underwear on his head and then on the little boy's head and they laugh like crazy. The boy proceeds to try to dress the dragon but the buttons pop off the first shirt and the second one gets caught on the dragon's horns. The dragon refuses to try a third shirt and instead wears a cape.
The story continues until the boy and the dragon decide to play their favorite game of Dragon and Knight. The dragon insists on being the knight.
This is just a silly little story about friends playing and having fun. Children love underwear and the idea of a dragon wearing it is extra humorous to them. They will also find the little twist at the end delightful.
The completely colored, cartoonish pictures are full-page and double-page spreads.
This would be a great book to cheer up a sad child, especially one who loves dragons and knights.
Click here to buy How to Dress a Dragon