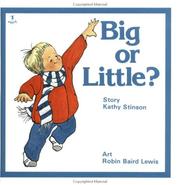 This book begins "You know, sometimes I feel so big." It goes on to show a preschool boy tying his shoes, zipping his jeans, and unbuttoning his shirt. It continues, "But sometimes I feel so little." This time he can't reach the elevator button. It goes on to relate remembering his library book, losing his sock, making his own breakfast, wetting the bed, helping his little sister, sitting in timeout because he rode his bike into the street, and more. The events are all age-appropriate.
The illustrations are charming and convey the boy's emotions of pride, disappointment, frustration, and achievement clearly and sensitively. They are pen and ink drawings with watercolor wash.
The story ends perfectly, "Mostly I want to be big, but sometimes being little is pretty good too." I was happy to see a balance between accepting his age-appropriate skills, striving to learn new ones, and enjoying his life in the present moment.
There is an updated version with new illustrations.
BUY Big or Little? by Kathy Stinson (2009-02-01)