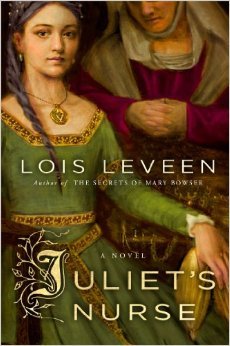 Click here to buy Juliet's Nurse: A Novel
Juliet's nurse was engaging from the very first page. The story is told from the point of view of Juliet's nurse, Angelica, beginning with the rather odd childbirth and subsequent death of her infant girl. Her voice is at times compelling, sensitive, humorous, and profound. She is a character that will stay with you long after you've put the book down.
I don't want to give away too much of the story, but the author has added some twists and turns to Shakespeare's version. They work and they work well. Even though you may be very familiar with the story of Romeo and Juliet, this story will keep you in suspense to the very end.
More than an historical/fictional drama, this book is a romance. But not the one you might think. Angelica is profoundly loved by her husband Pietro. Together they have mourned the horrifying loss of all their sons to plague. Angelica must decide whether to remain with Juliet once she has weaned or return to her husband who misses her so. This is a woman who wants both the love of a man and the love of a child. Her clever, convoluted plots to keep both are intriguing and touching. The love scenes between Pietro and Angelica are both tender and passionate.
This author, Lois Leveen, really knows how to pull at the heartstrings. She is never maudlin, emotions come across as sincere, deep, and human. Don't be surprised if you tear up in unexpected places.
The writing is tight, the research well done, and the story is seamlessly knitted up with Shakespeare's work. My single disappointment was that she has only one other book on Amazon, which I intend to read as soon as possible.
If you like romance, Shakespeare, and/or Tudor history, this story will climb inside your heart and take up residence.
I was given an advanced reading copy in exchange for a fair review.